Writing a Compelling Job Description
By Vera Ilievski
|
November 10, 2018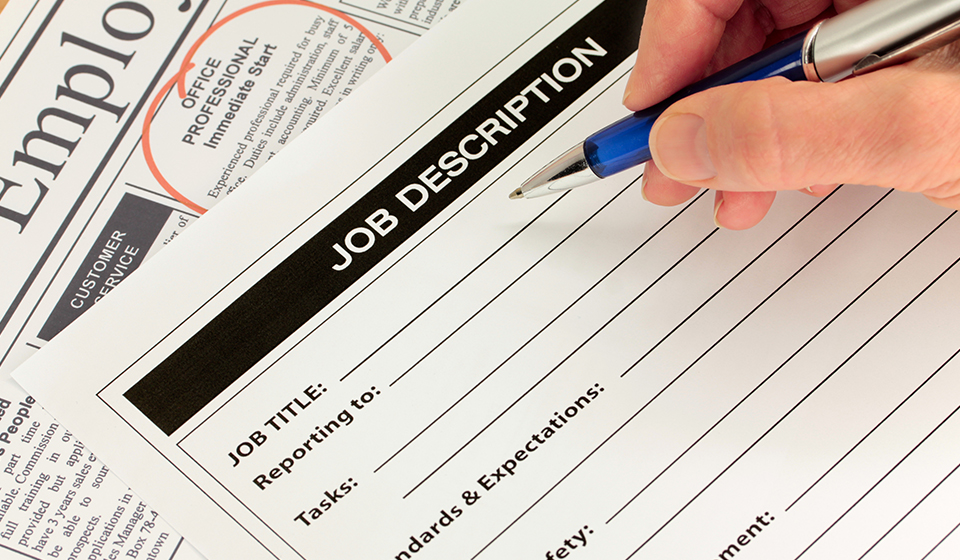 Today's job market can be fierce. With unemployment still at record lows, finding and retaining top talent is vital to your company's success. You're in competition for the same top talent as hundreds of other employers. This shift in power from employer to candidate makes writing a compelling job description to attract the "best-of-the-best" more important than ever.
So, What Makes a Job Description Compelling?
Just like in life, there are times when you want to stand out, and other times when you may want to blend in. It's knowing where to stand out and where to blend in that becomes important when writing your company's job descriptions. We're going to break it down for you here!
Job Titles. (BLEND IN) – The job title is NOT your opportunity to be creative. "Creative Guru" will not find you the best Marketing Manager in the Massachusetts. Candidates are going to be searching job sites for standard, generic titles related to their role.
Hierarchical Titles. (BLEND IN) – Avoid using company specific hierarchical titles like "Level IV" Programmer. Instead, use standard terminology like Senior, Junior, Executive, Chief, Entry-Level, Mid- level, etc.
"Sell" your company. (STAND OUT) – What does your company do? What makes it great or unique? Why would today's top talent want to go work for you? Unlike the job title, this is a great place for you to showcase your company's originality and your creative writing skills!
Remove company or industry jargon. (BLEND IN) – The top talent you are seeking may not be privy to your company's language or even come from the same industry. Keep terms as simple and as generic as possible.
Specify Job Location: (STAND OUT) – Be specific about the exact city and state where your job is located. "Greater Boston area" may sound fantastic if you're from the Boston area, but it's pretty ambiguous unless the job is actually in Boston. Let's not forget that many people do not want to work in the city because it's a hassle to commute in and out of. So, if you're not actually in the city, don't make it sound like you are.
Position Summary: (STAND OUT) – In this section, you should include your expectations for the role, who the candidate will report to (position), how the role fits into the overall organization, and the day-to-day activities the individual will be expected to perform.
Skills and Qualifications. (STAND OUT) – Make sure to include only the most important skills (both hard and soft) for the position. Whenever possible, keep the list as short and concise as possible as great potential candidates may disqualify themselves if they feel they don't meet all of your specified job requirements.
Other Items:
Willing to Train? (STAND OUT) – Oftentimes a candidate has all the right skills but might be missing one or two elements you say you require. Are you willing to train the right candidate in your software, processes, systems, etc.? If yes, say so here. Again, candidates may disqualify themselves if they feel they don't have the specific knowledge or skill that you say is required.
Education vs. Experience. (STAND OUT) – Are you willing to overlook a great candidate with 15 years of proven experience because they don't have a degree? Make sure to state whether a degree is required or if a number of years of related experience can be substituted.
Your Company's Benefits. (STAND OUT) – Competing for top talent is not just about the salary you offer. A top candidate's tipping point may come down to things like work environment, flexibility (work/life balance), insurance benefits, opportunities for career advancement, on-site parking, work-from-home options, paid time off, tuition reimbursement, job perks (like free company lunches , employee appreciation events, and onsite gym), casual work attire, and 401(k) with company matches. Make sure to list as many benefits of working for your company as you can think of.
By following these simple guidelines, you will be able to compete for today's top talent and be on your way to your next perfect hire.